Injuries of any kind can be severe and very disruptive to your overall well-being and day-to-day activities. Accidents happen, but sometimes injuries are the result of someone else's reckless, negligent, or careless behavior. If your injuries are the result of any of these circumstances, you may have the right to file a claim against those who are responsible.
These types of injuries can be because information has been omitted or because of intentional harm. Any injuries of this type, regardless of their causation, are argued under personal injury law. This specific practice is not criminal but civil because it seeks to gain compensation for financial, physical, or emotional impacts.
Unfortunately, filing civil claims cannot quicken the recovery process, but it can seek to support the collateral impacts of such injuries, including help with medical bills, lost wages from work, and compensation for any pain and suffering you may have experienced.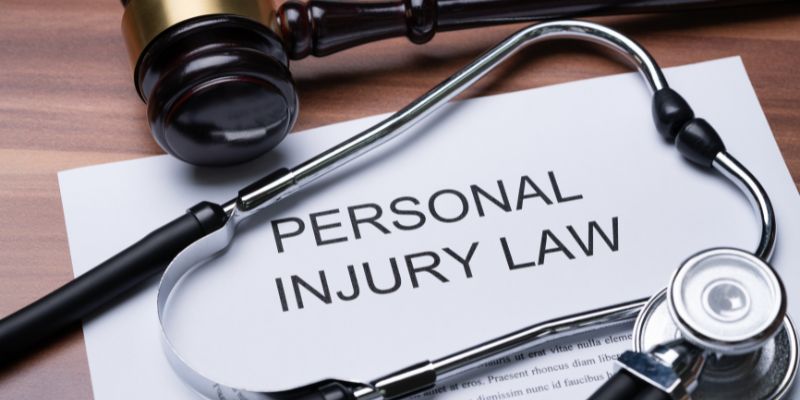 What Is Considered a Personal Injury in California?
Not every injury is considered a personal injury. There are specific circumstances that qualify an injury to be eligible for a claim. At the same time, there are many injuries that people may incur that are left uninvestigated because they don't think it is a personal injury.
Common types of personal injury include:
Dog bite cases
Medical malpractice (These particular cases may be considered under other legal categories. In addition, there are requirements for reporting such incidents, which is why seeking an attorney as soon as possible is imperative.)
Injuries caused by manufacturer defects in products
A negligent behavior, action, or instruction that results in an injury
Both public and private slip and fall accidents
Construction site injuries
These situations, and many others, are a matter of circumstance as to whether or not they fall under personal injury. Some mitigating factors for certain types of injuries could be considered in a workers' compensation claim. However, an injury cannot be claimed as both personal injury and workers' compensation.
Other mitigating circumstances include the victim's role in the injury. If, for example, a person is walking outside and comes across a dog in a yard. The person instigates the dog, thinking it is safely restrained, but the dog frees itself and bites the person. The victim can be considered to blame for any injuries suffered, which then negates any opportunity for a personal injury claim.
Suppose someone visits a private residence and falls through a faulty railing on the porch. They were not informed of the faulty railing, but the homeowner was aware of it. The victim may be entitled to file a claim against the homeowner for negligence. In this same scenario, if the victim was told that the railing was faulty before leaning on it, they would likely not have a valid personal injury claim.
In any personal injury claim, there is an understanding of reasonableness in terms of notifying someone of potential injury. So, if reasonable attempts were made to warn of the danger, it negates any neglectful responsibility that they have.
Negligence
Negligence is not as cut and dry as it sounds. California has adopted a comparative negligence system. This means that there can be multiple parties responsible for an injury, and each party is only responsible for their share of an injury. Some cases could prove a defendant is 100% responsible for the injury. However, the victim in these claims can also be held partially responsible.
Statute of Limitations
There is a two-year statute of limitations on most personal injury claims. Some claims, such as medical malpractice, are significantly shorter, which is why there is a need for expediency in finding an attorney to help.
Shorter limitations are also in place if the negligent party is a government entity, where personal injury claims must be filed within six months.
However, California does have elements in place to protect the injured, particularly if they don't realize an injury has occurred right away. Some circumstances allow them to file a claim under extended limitations, which allows them to file up to one year after the injury is discovered.
FAQs
Q: What Is the Difference Between Bodily Injury and Personal Injury in California?
A: Bodily injury is a term used to describe specific insurance coverages that are a part of property, homeowner, and automobile insurance policies that help to financially protect a person if they injure another. Personal injury is the civil claim filed by one person against another person, business, or other entity they feel is negligently responsible for injuries suffered.
Q: What Makes Up a Personal Injury Claim?
A: There are four parts of a personal injury claim that need to be proven. First, establish the presence of duty (there was a responsibility of care). Second, prove there was a breach of that duty. Third, the claimant needs to prove there was physical, emotional, or financial injury. Fourth, there needs to be evidence that the defendant was the cause of the claimant's injuries.
Q: What Kinds of Injuries Does Personal Injury Law Include?
A: Personal injury claims can be the result of many different types of injuries. Such injuries include those sustained from car accidents, bike accidents, dog bites, manufacturer product malfunctions, construction site injuries, or dangerous slip and falls. These injuries, amongst others, can all be the result of negligent behavior.
Q: How Do I Know If I Have a Personal Injury?
A: One of the first steps in any personal injury case is to make sure you seek medical treatment. Having your injury documented and evaluated by medical professionals will help to establish the presence of an injury and probable cause for how the injury was sustained. In addition, your claim may need to take into account any long-term care that you may need for your injuries.
California Personal Injury Attorney
Personal injury litigation can be complicated because of the circumstances of your claim. If you are injured and feel it is due to the negligence of others, contact Ewing Law Group, PC and let our knowledgeable and experienced attorneys review the details of your case. We can help you get the compensation you may be entitled to.